Careers
Welcome to the Premier family.
Benefits
It's an exciting time to join Premier. As we continue to grow, our employees play a key role in shaping the future of media and technology - but that's not all. Full-time employees are eligible for a number of benefits and special perks.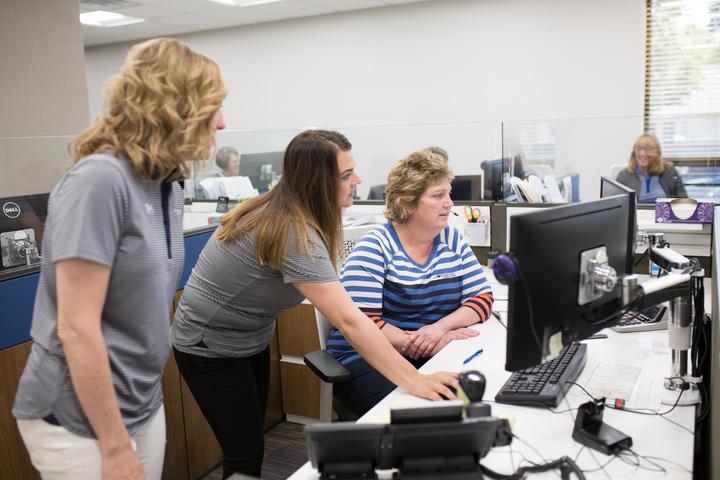 Health Plans
Employees are provided an opportunity for medical, dental, vision and prescription drug coverage, flex spending accounts as well as group life insurance and a long-term disability program.
Retirement
Employees are assisted in planning for retirement through the opportunity to contribute to a 401(k) with employer matching contributions.
Work/Life
Employees are able to balance their work life and personal time with our Paid Time Off (PTO) program, paid holidays, and an Employee Assistance Program
Qualities We Value
Motivated
We're always looking for top talent and passionate go-getters.
Dependable
Our employees care about our customers, their community, and each other, and it shows in their work, in their attitude, and in their actions.
Unique
Our employees come from a variety of backgrounds, bringing an assortment of knowledge and skills to every area of our business.
Career Opportunities
Position Type: Full-Time
Office Location: Sioux Center
Premier Communications is currently seeking a full-time position IT consultant to join our team. A qualified candidate must have a working knowledge of Microsoft Windows desktop, Windows Server O/S, Microsoft Exchange, Microsoft Office 365, and networking and possess articulation, documentation, presentation, and communication skills. The candidate will work closely with the client's staff to provide full-service IT outsourcing.  The candidate will report to our office in Sioux Center, work independently, and support our customers throughout Northwest Iowa. Previous Network Administration experience is a plus.
Typical customer tasks involve:
Support and troubleshoot client's users, servers, workstations, and networks. Work on-site or remotely to diagnose and resolve problems.

Support and manage a variety of applications, including but not limited to: email applications, phone communications, and high-speed internet connections.

Create ongoing documentation of the environment as it evolves.

Evaluate and understand clients' business to provide recommendations/solutions to aid clients' growth.
Minimum Technical Work Experience Requirements:
Ability to troubleshoot a wide variety of problems.

Knowledge of personal computers and associated peripherals and LANs.

Knowledge of widely used personal computer and server software packages to provide technical assistance on related projects.

Ability to translate business requirements into technical solutions.

Strong troubleshooting and communications skills and the ability to implement quick workarounds to technical problems.

Willingness to exchange information with clients and colleagues.

Ability to operate effectively in a mobile office environment, providing consistent follow-through and utilizing remote access and wireless connectivity technology.

Excellent problem-solving capability, utilizing all available resources to resolve issues quickly.

Take a personal interest in the technology supported and responsibility for the quality of work performed.

The following skills are a plus:
Server Platforms: 2016/2019/2022 Server (AD, DNS, Security, Backup/DR)

Server Virtualization and Shared Storage

Network Applications: Exchange 2016/2019, SQL 2016/2017/2019

Desktop Platforms: Windows 10/11 (Group Policy, Profile Management)
Minimum Management/Business Work Requirements:
Desire and self-motivation to learn new technologies and stay abreast of industry changes.
Ability to work with a diverse range of technology daily.
Ability to build and foster business relationships and rapport with key contacts.
Maintain a positive attitude with colleagues and challenging customers under stressful circumstances.
Must have professional services / IT experience.
Able to dynamically and positively multi-task across numerous issues and clients.
Able to take ownership of projects and complex problems and follow through with minimal supervision.
Must understand clients' budgetary needs, corporate goals, and workflow process.
Must be focused on results and enable businesses to operate more effectively.
JOB REQUIREMENTS
Education/Certification:
Minimum 2-year AA degree
Any technical certifications are a plus
Work experience in Information Technology, tech support call center, or equivalent work and/or training experience
Physical and non-IT Requirements:
Valid Driver's license
Ability to travel to multiple clients on a daily basis.
Ability to respond to off-hour emergencies.
Ability to lift, carry and move items weighing up to 30 pounds.
Please submit Cover Letter, Resume, and References to:
Premier Communications
Attn: Human Resources
PO Box 200
Sioux Center, IA 51250
We are an Equal Opportunity Employer